We have are more than thousands of innovative skills and behavioral assessments that will give your organization the right insights needed to hire, develop, and promote people who can make a positive difference in your organization.
These tools will help your organization:
Fit the right people in to the right positions in your organization.
Effectively measure job knowledge, skills and abilities in Microsoft Office, clerical, computer literacy, IT, call center, food services, retail sales, light industrial, accounting, behavioral, medical and legal areas.
Get the right tool to hire, develop and promote the people who can make a positive difference in the organization.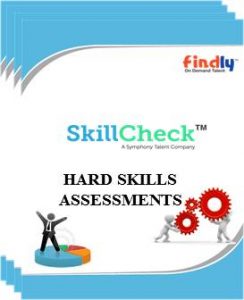 With our testing solutions, an organization can maximize the return on human capital investments, reducing turnover rates and training requirements. Thousands of companies including some of worlds largest corporations, major local and international organizations trust their employment screening process and employee development needs assessment to our suite of human capital assessment tools as follows:
 
Our SkillCheck Accounting and Finance Assessments enable you to evaluate key competencies in accounting and bookkeeping, bank teller skills, collections, financial management and more. Test knowledge of accounts receivable and accounts payable, as well as abilities with popular accounting software such as Peachtree and Quickbooks. We also offer SkillCheck Assessments for important skills such as typing, audio transcription, and language skills relating to work in an accounting environment

Use our Call Center Assessment to measure customer service skills and sales ability using realistic simulations of call center scenarios.

Clerical Office tests let you evaluate critical office and clerical skills, including business English and math, typing, data entry, filing and coding, as well as telephone and office management skills.

Tap our performance-based and knowledge-based Digital Literacy tests to assess basic understanding of all aspects of computing and the Internet, including hardware, software, networks, email and Internet browsing.

Use our Food Service test to screen applicants on the basics of food hygiene, food storage and disease prevention, and test for specific knowledge of clinical nutrition, world cuisine and food preparation techniques.

Test essential light industrial skills such as pick and pack, count and stack, basic math, shop math and more! Our Light Industrial tests also offer general knowledge testing in critical industrial areas such as forklift operation, safety, warehouse shipping and receiving, as well as industrial disciplines such as construction, automotive, plumbing, and electrical work.

Measure critical skills for programmers and IT professionals. Our IT Assessments measure the most important programming languages and information technology systems.

Assess understanding of critical concepts and terminology for more than a dozen different medical disciplines. Medical Office Assessments also let you assess the knowledge and skills of those working in hospitals, insurance firms, and other medical environments with tests on medical billing and medical coding, as well as typing, transcription, language and other medical office skills.

Whether you are placing nurses on temporary positions, SkillCheck Nursing Tests package provides your organization a wide range of tests to meet your knowledge and skills evaluation requirements.

With Retail Sales Assessments, you can measure knowledge and skills required for effective retail sales work with tests based on standards established by the National Retail Foundation for the National Skills Standards Board.

Use Software Skills Assessments featuring state-of the-art software simulations to test candidates on today's top office software, including Microsoft Office and more.

With our time adaptive Talent Scout Testing, you can test all critical kills required for Microsoft Office, Call Center, Accounting and Bookkeeping, Clerical, Legal, Light Industrial, and Medical office positions in less than half time required by traditional testing.

Measure general speed and accuracy in typing, data entry, audio transcription and shorthand or use tests specific to accounting, legal or office staff.